Act in English with Théo-Théâtre
2010-03-30
http://blog.paris15.fr/2010/03/act-in-english-with-theo-theatre.html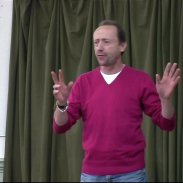 Dear English-speaking readers, today Paris15 is going to speak in English, insofar as Paris15 can speak, that is. Actually, this is not the first time that Paris15 has been speaking English, as we had previously published an article about a play in English at the Monfort. Anyway, today Paris15 would like to inform you that you can act and play in English, not at the Monfort but at the Théo-Théâtre this time.

The man on the picture, François Teyssier, is organising an exciting Acting Workshop in English, and Paris15 really likes the idea. We therefore advise you to have a close look at the details of the Workshop... or even to participate!

The creed is Come Along, Have Fun and Enjoy Yourself. The goals of the session are simple and clear: to be able to speak in public in English and to improve your fluency in English. The programme of the 2-day session is the following: (1) Practicing acting techniques : body and voice warm up, energy, focus, trusting other people, improvising and playing; (2) Creating a Story; (3) The story, creation and rehearsal and finally... (4) Performing in public! You will eventually be acting on the very stage of the Théo-Théâtre, which certainly represents an unforgetable experience!

Act and Play in English,
A 2-day Workshop at the Théo Théâtre
From Saturday 3 April 2010 (10:00am)
To Sunday 4 April 2010 (5:00pm)

Théo Théâtre,
20, rue Théodore Deck - 75015

M12 : Convention or Porte de Versailles
M8 : Boucicaut
Bus : 80 - 62 - 39 / Tram T3

Fee : 120 euros

For any information, please contact the Théo Théâtre (01 45 57 92 74) or François Teyssier, who organises this Workshop in English (Mobile UK : (+44)7 886 997 940 or Mobile France : (+33) 6 11 22 31 55.) Do not hesitate to access the following websites: Acting Advantage and François Teyssier's Blog.
https://www.blogger.com/comment.g?blogID=23840076&postID=2902116892990262271&isPopup=true
onclick="window.open('https://www.blogger.com/comment.g?blogID=23840076&postID=2902116892990262271&isPopup=true', 'bloggerPopup', 'toolbar=0,scrollbars=1,location=0,statusbar=1,menubar=0,resizable=1,width=400,height=450');return false;"
0
http://blog.paris15.fr/2001/01/
janvier 2001
http://blog.paris15.fr/2006/03/
mars 2006
http://blog.paris15.fr/2006/04/
avril 2006
http://blog.paris15.fr/2006/05/
mai 2006
http://blog.paris15.fr/2006/06/
juin 2006
http://blog.paris15.fr/2006/07/
juillet 2006
http://blog.paris15.fr/2006/08/
août 2006
http://blog.paris15.fr/2006/09/
septembre 2006
http://blog.paris15.fr/2006/10/
octobre 2006
http://blog.paris15.fr/2006/11/
novembre 2006
http://blog.paris15.fr/2006/12/
décembre 2006
http://blog.paris15.fr/2007/01/
janvier 2007
http://blog.paris15.fr/2007/02/
février 2007
http://blog.paris15.fr/2007/03/
mars 2007
http://blog.paris15.fr/2007/04/
avril 2007
http://blog.paris15.fr/2007/05/
mai 2007
http://blog.paris15.fr/2007/06/
juin 2007
http://blog.paris15.fr/2007/07/
juillet 2007
http://blog.paris15.fr/2007/08/
août 2007
http://blog.paris15.fr/2007/09/
septembre 2007
http://blog.paris15.fr/2007/10/
octobre 2007
http://blog.paris15.fr/2007/11/
novembre 2007
http://blog.paris15.fr/2007/12/
décembre 2007
http://blog.paris15.fr/2008/01/
janvier 2008
http://blog.paris15.fr/2008/02/
février 2008
http://blog.paris15.fr/2008/03/
mars 2008
http://blog.paris15.fr/2008/04/
avril 2008
http://blog.paris15.fr/2008/05/
mai 2008
http://blog.paris15.fr/2008/06/
juin 2008
http://blog.paris15.fr/2008/07/
juillet 2008
http://blog.paris15.fr/2008/08/
août 2008
http://blog.paris15.fr/2008/09/
septembre 2008
http://blog.paris15.fr/2008/10/
octobre 2008
http://blog.paris15.fr/2008/11/
novembre 2008
http://blog.paris15.fr/2008/12/
décembre 2008
http://blog.paris15.fr/2009/01/
janvier 2009
http://blog.paris15.fr/2009/02/
février 2009
http://blog.paris15.fr/2009/03/
mars 2009
http://blog.paris15.fr/2009/04/
avril 2009
http://blog.paris15.fr/2009/05/
mai 2009
http://blog.paris15.fr/2009/06/
juin 2009
http://blog.paris15.fr/2009/07/
juillet 2009
http://blog.paris15.fr/2009/08/
août 2009
http://blog.paris15.fr/2009/09/
septembre 2009
http://blog.paris15.fr/2009/10/
octobre 2009
http://blog.paris15.fr/2009/11/
novembre 2009
http://blog.paris15.fr/2009/12/
décembre 2009
http://blog.paris15.fr/2010/01/
janvier 2010
http://blog.paris15.fr/2010/02/
février 2010
http://blog.paris15.fr/2010/03/
mars 2010
http://blog.paris15.fr/2010/04/
avril 2010
http://blog.paris15.fr/2010/05/
mai 2010
http://blog.paris15.fr/2010/06/
juin 2010
http://blog.paris15.fr/2010/07/
juillet 2010
http://blog.paris15.fr/2010/08/
août 2010
http://blog.paris15.fr/2010/09/
septembre 2010
http://blog.paris15.fr/2010/10/
octobre 2010
http://blog.paris15.fr/2010/11/
novembre 2010
http://blog.paris15.fr/2010/12/
décembre 2010
http://blog.paris15.fr/2011/01/
janvier 2011
http://blog.paris15.fr/2011/02/
février 2011
http://blog.paris15.fr/2011/03/
mars 2011
http://blog.paris15.fr/2012/03/
mars 2012
http://blog.paris15.fr/2015/10/
octobre 2015
http://blog.paris15.fr/2017/05/
mai 2017
http://blog.paris15.fr/2017/07/
juillet 2017